Best Practice Presentation: Metadata and its relevance to create Network Visualizations: the case of the SnT2019 Conference
| | |
| --- | --- |
| Title: | Metadata and its relevance to create Network Visualizations: the case of the SnT2019 Conference |
| Date: | 2020-09-24 15:00 |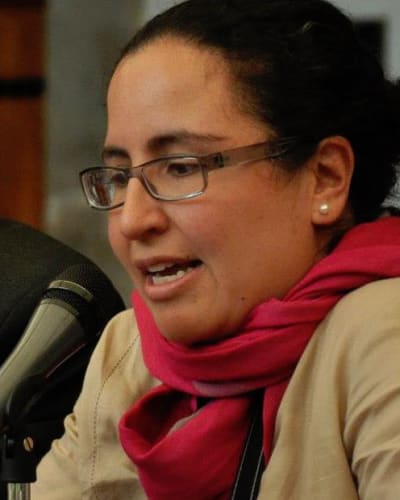 Flor Trillo
Comprehensive Nuclear-Test-Ban Treaty Organization (CTBTO) Library
Her career as a Mexican library manager has more than twenty years in a variety of libraries from different sectors such as private, public, national, and international organizations. She is a knowledge management expert; her areas of interest include scientific communication, research networks, and research data management. Ms. Trillo is currently attending a master program about "Intercultural Education between Europe and Latin-American" offered by the UNED in Spain. She earned her MLIS from the Universidad de la Habana, Cuba in 2011. She received a Post-Graduate Degree from the FLACSO Argentina in "Project Management applied to Libraries and Documentation Centers" in 2007. She graduated cum laude from the UNAM with a Bachelor's Degree in Library Science in 2001. Since the beginning of 2019, she works as a SOLO Librarian at CTBTO Preparatory Commission based in Vienna, Austria; in one of the four official headquarters of the United Nations.
---
Abstract
As a part of the report of the CTBTO Science and Technology (SnT) Conference held in Hofburg Palace, Vienna, Austria on 24-26 June 2019. The CTBTO Library has created an extensive analysis of international collaboration through key network visualizations to represent the knowledge transfer of 699 proposals compiled in a Book of Abstracts. In the context of the Comprehensive Nuclear-Test-Ban Treaty (CTBT) verification system, these abstracts involved the participation of experts in nuclear test detection and on the infrastructure that underpins it. This massive event reached the attendance of more than 1,200 experts from international organizations, global policy-making, international collaboration, and citizen awareness attended; with more than 100 oral presentations and more than 300 poster presentations. In this framework, it was needed to represent the complexity of this universe from a different approach to analysis and determine the variety and diversity of international collaborations between: authors, keywords, institutions, and countries. This work was based on the use of the following software: a) Mendeley to create an accurate set of metadata such as titles, authors, abstracts, keywords, affiliations and countries; and b) VoSviewer to design network visualizations to express in one graphic representation its connections. The role of the Metadata during this analysis was crucial, because without the standardization of names, keywords, institutions, and countries. It would not have been possible to represent in one scheme all the relevant information behind each network analysis that expresses how the clusters are interconnected, its co-occurrence, its relatedness based on the frequency.
Important Links